Fencing & Railing Features
Ultrum™ Alloy
High-strength Ultrum™ Alloy, made in the USA.
---
It's as strong as steel, but will never rust. Ultrum™ is a 6005-T5 alloy, with a minimum ultimate strength of 35,000 psi.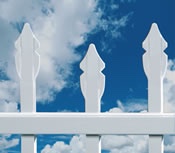 Pinched Spear Tops
Our pinched spear tops show more detail than most competitors.
---
We put more dimension into our version; the more pronounced ribs add structural integrity as well as architectural appeal.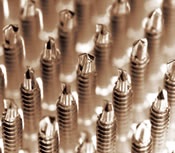 Stainless-Steel Fasteners
Factory assembled, with stainless-steel fasteners.
---
For structural integrity and strength you can count on.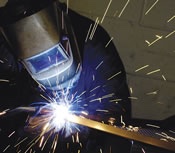 Welding
All gates are fastened and 100% welded at all connections and joints.
---
Designed to stand up to the rigors of everyday use.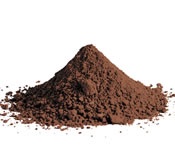 Powercoat™ Finish
Powercoat™ Finish—panels, gates, posts and designer accessories.
---
When applied, Powercoat™ is twice the thickness and hardness of a typical acrylic, baked enamel, or "wet paint" finish, making it more durable, fade-resistant and scratch-resistant than other coatings.
Fencing Features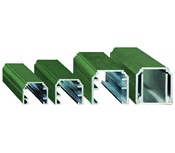 20% More Aluminum
Ultrarail™ – 20% more aluminum in all our rails, with a full 8 ribs inside .
---
Maintains Ultra-Strength even when punched for pickets.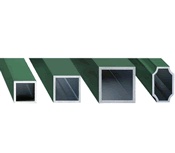 Performance Choices
Multiple grades of pickets and posts for every performance level.
---
5⁄8" Square Pickets, 3⁄4" Square Pickets, 1" Square Pickets, and exclusive Ultra Fluted 5⁄8" x 1" Pickets.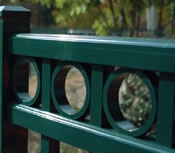 Design Choices
Finials, butterflies, scrolls and circles take your fencing to a new level.
---
Combine these heavy-duty cast accessories for truly distinct designs.
Railing Features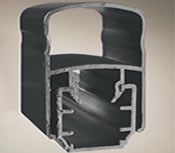 Signature Double-Wall Railing
Our Signature double-wall rail design adds strength and conceals the fasteners.
---
Two-piece top rail has 8 ribs and hides the fasteners underneath.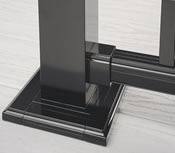 Boss Posts & Flanges
Signature railing incorporates Boss Posts and Boss Floor Flanges.
---
With hidden fasteners for a clean, professional look.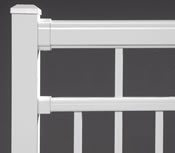 Innovative Shape & Design
Signature rails have an innovative shape and design.
---
Flutes on all our rails for an heirloom quality appearance.