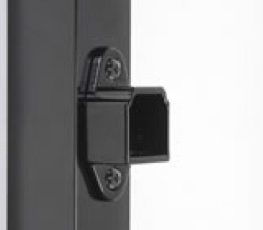 Standard Rail End-Fencing
Standard rail ends are used for attaching a fence panel directly to a structure, column, or post, without the use of an Ultra punched post.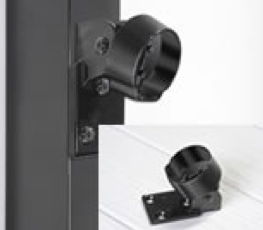 Adjustable Rail End-Railing
When railing sections need to be mounted on an angle, adjustable rail mounting brackets are ideal. Available in horizontal or vertical orientation.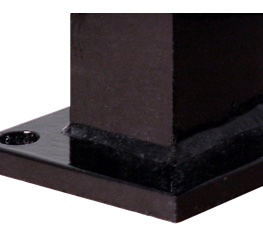 Welded Flange
Welded aluminum flanges are used to attach a post to a hard surface.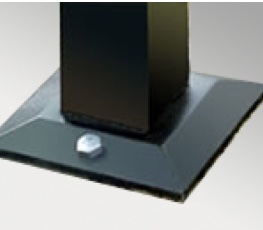 Wedge Flange
A cleaner option to a welded flange, wedge flanges come in 2 pieces and require assembly. They are available for 2" and 2-1/2" posts.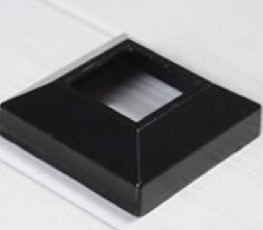 Flange Cap
Used to hide welded flanges and match existing post cap. Available in 2" and 2-1/2".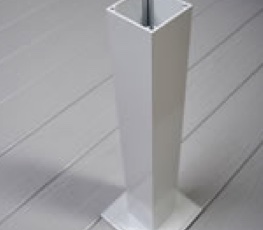 Boss Posts
An innovative post design, which allows railing accessories and Boss Flanges to be attached.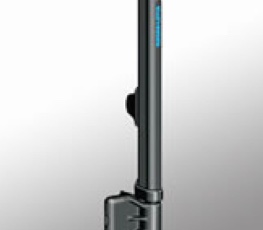 Magna Latch™
Designed specifically for securing gates around swimming pools, home yards and child care centers, they use patented magnetic technology and super-strong 'Permanent Magnets' to eliminate the possibility of mechanical jamming while closing.
Available in 10" and 20" heights.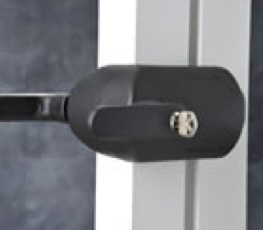 Z-Lokk
The Z-Lokk is a lockable magnetic gate lock with dual security lock cylinders allows you to open and lock from either side. It uses the same patented magnetic technology of the Magna-Latch. Made from tough engineering polymers and quality stainless steel components, Z-Lokk will never rust or stain. Best of all, its 6-pin locks can be re-keyed (by a locksmith) to match other household locks. Fits gate frames from 1-5/8"' to "2-1/2" (41mm-63mm).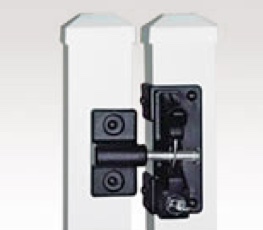 LokkLatch™
A general-purpose latch for a garden gate or a self-locking version for apartments and commercial properties. Made from super-strong engineering polymers and stainless steel components that won't rust. All LokkLatch models come with key-lockable convenience and are both vertically & horizontally adjustable.
Available in Residential and Deluxe grades.
Tru-Close™
TruClose Self-Closing hinges are suitable for gates weighing up to 55lb with a maximum gate load up to 550lb. Quick and easy to install, side fixing Alignment legs offer additional strength -- hinge attaches to both the face and side of the fence post and gate.
Available in Residential and Industrial grades.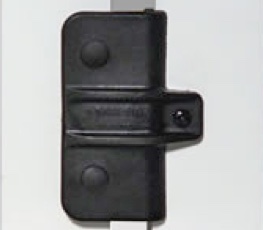 Gate Stop
The gate alignment device for preventing hinge, latch and gate damage, and for prolonging gate life. Molded from high-strength polymer materials, it is guaranteed against rust, distortion and staining. An integrated rubber buffer protects against 'gate slam' and reduces noise significantly.
Available in 3-3/4" and 4-3/4".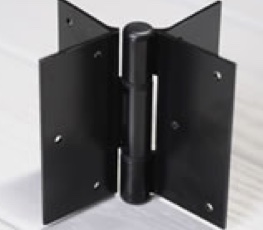 Aluminum Hinge
This fully-functioning hinge is available on all Ultra gates.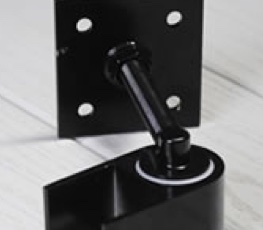 Ultrahinge™
A Revolutionary design using all-aluminum extrusion, mylar hinge blocks and j-bolts. Welded to the gate frame and then bolt mounted to a 4" post or greater.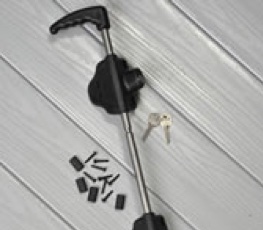 LokkBolt®
The LokkBolt is a lockable security stainless steel (Marine grade) drop-bolt, ideal for use with drive gates. It is key-lockable and available in 24" length. Bolt retention grooves prevent the cane-bolt from dropping or dragging across pavement.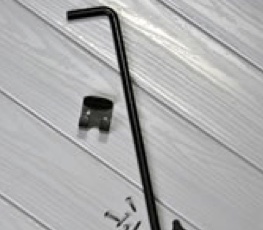 Standard Drop Rod
Used when installing a drive gate. Attaches to one leaf and drops into a hole in the ground to hold gate closed. They are required to be used with most latching systems. 18" length.