We make a wide variety of ornamental aluminum fencing for every neighborhood, home style and application. For a low-maintenance, strong and durable decorative fence with the classic wrought-iron look, choose Ultra Aluminum™ Residential Fencing.
We use only the strongest aluminum alloys, and incorporate 20% more aluminum in all our rails than most of our competitors. All the components of our Residential Fences are individually designed and factory assembled with stainless-steel fasteners to ensure structural integrity. The entire assembly is protected with our powder coat finish that matches AAMA 2604 specifications.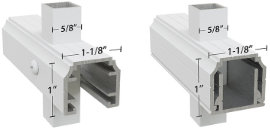 All Ultra Aluminum™ Residential Fencing sections come factory pre-assembled in 6' lengths with a broad offering of heights – 36", 42", 48", 54", 60", and 72". Other widths and heights may be available. Pickets are 5/8" square x .050, and above the top rail can be straight, staggered, concave or convex. Spacing between pickets for Residential are standard at 3-13/16" and optional 1-5/8". Our Residential Fencing is also available in a Premium grade that features a 2-piece fully encased rail that provides additional strength and hides the fasteners for a clean look.

Each section easily follows modest changes in grade along your property lines. Our Residential Fence is also available in rackable models which will assist in conforming to more prominent hills and valleys. In addition, the bottom rail is offered in standard or flush bottom configurations.